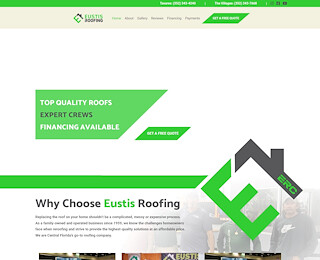 Are you having difficulty finding a reputable roofing company in The Villages for your home or commercial building? Search no more. At Eustis Roofing, we are one of The Villages' best roofers with years of experience serving businesses and homeowners. Whether you need a roof replacement, repair, or reroofing, our expert roofers in The Villages are always available to provide excellent roofing work.. 
But don't just read our words. We advise you to see what past customers are saying about us. Just check out all our reviews through our website or check online. You may also search us on Google to see what our customers say about us. We're sure our customer reviews can help you realize that we are the right roofing company for your roofing project in The Villages, FL.
Our Customer Testimonials
At completing each project, we take a moment to hear about our client's experience and take note of any suggestions to improve our service. We have collected a lot of reviews over the years in The Villages. Please scroll down to see what previous customers are saying about us.
Pamela Bickford
They are professional, curious, friendly, explain every aspect of the process. Up front and very reasonable. The 2 men who did the work on my roof were Efrain and Juan P. Did an excellent job . Done in a safe timely manner. Always cleaned up any mess that might have been made. Left nothing laying around to become a hazard. If I need more roof work done in the future, I will only use Eustis Roofing and will always request Efrain and Juan P. You will never be sorry if you choose them. Great company.
Judith Westphal
We had a limb come down on our roof. First Eustis sent a damage inspector who gave us a repair estimate. We then got a call to let us know two repair technicians would be out. Jeff and Juan arrived on time, were efficient and cleaned up nicely. Repair done. We are happy.
Robin McWatters 
They were not the lowest estimate I received but their company stability, no use of subcontractors, quality of materials made me choose them. Now that the job is done, their team was great. Meticulous with clean up. Kept me up to date on progress and the roof looks incredible. 
Karen Sears 
This was our second time using Eustis Roofing. The entire office staff was always very professional. Fernando and his hard working crew were very diligent and kept us informed of their progress. When they finished, you wouldn't have known they were even here...except for our beautiful new roof. We would definitely recommend Eustis Roofing to anyone who needs a roof or a repair.  
Let Our Team Make You Comfortable
Eustis Roofing is one of the leading roofing contractors in The villages. We have received many glowing reviews from satisfied clients, pay attention to this feedback, and kept track of every customer's satisfaction. This helps us handle complaints thoroughly, respectfully, and timely. 
You can visit our website to view customer testimonials and reap for yourself the benefit of customer endorsements in guiding your decision on a roofing contractor. Get in touch today by phone at (352) 343-4240 or Email: info@eustisroofing.com to request a consultation.
Roofing Company The Villages
Eustis Roofing Company
3523434240
15311 Old US Highway 441
Tavares
FL
32778
View Larger Map